Ia Philippines (official-ye, in Englisch, Republic of the Philippines) est un souverain insulen land in Sud-Eust Asia lyehgend in id West Pacific Ocean. Id consist 7107 insules jamiyet weur-ye do tri magna geographic divisions : Luzon, Visayas ed Mindanao. Ids nagor est Manila menxu ids befolctst urb est Quezon City; bo sont parts os Metro(politano) Manila. Med un population om takriban 100 millions leuden, ia Philippines sont id septim befolctst land Asias, ed tienxia 12t.
Filipino ed Englisch sont ia official bahsas ios land. Filipino est un standardiset version os Tagalog, baht khaliban in Metro Manila ed alya urban regions. Bo Filipino ed Englisch bihnt nuden in gouvernement, education, drucken, irsals ed verslyn. Id official rawaj iom Philippines est id Philippin Peso.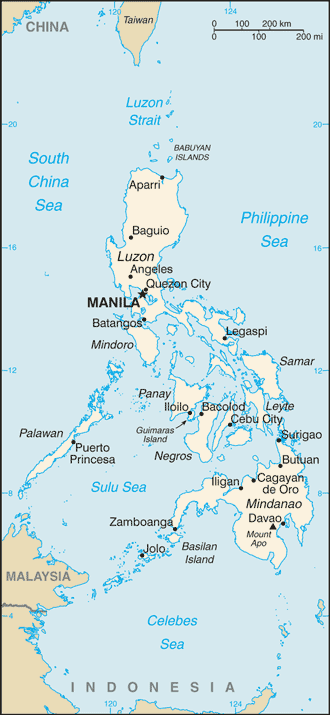 Ia Philippines sont id saulo land samt catholic dominance in Asia (con Timor) quod est praedd, pon ia 1970tias, conflicten impliend communiste au separatiste rebells. Id philippin politic systeme est inspiren ex tod iom Uniet Stats bet gnoht un climat os akster social ed politic instabilitat. In 1984, id assassinat os Ninoy Aquino, principal non-communiste opponent, hiebit precipitet id fall os Ferdinand Marcos : speit id martialo leg, is dictator buit uperwaldhen in 1986 dank uno militaro rebellion combinet uni pacific massenubstand. Id popules pressem permiss dind un process os democratisation bet, lyt ed lyt, un autoritair magh se restablicit. Id impos neoliberal siyassas qua hant obkwohken bringhes social violences ed id remilitarisation ios land in id nam os anti-terrorisme. Idsi successors ne hant ghohdto stope ia factional conflicts eni id armee ed id administration. Piut ab id systeme iom politic dynastias, milices ed teutmenos, nova violences oiscutte periodic-ye id land.
Denuncend id Statsgvalts, islamiste grupps forfiec bombenattentats au alya attaques, pace playcts buir signet in Jul 2013. Naudhus meis quem 15 yars tolken, sollient dehe un fin ei conflicti quod hat nicen 150 000 leuds ed permitte id establiement os un semi-autonom zone in id Sud ios archipelegv.