id nam Asia prehpt yant Antiquitat, shayad oys un schemi lexis maynend "eust". I Hellens it kyeuse id Anadolu peninsula, inter id Kyehrsen Mar ed id Mediomar (nundiens Tyrkia), quod hat eti conservet id nam "Asia Minor". Herodotos (484-425 pre JC) extendt tod nam do id continental hinterland, beuwend it Asia id trit part ios gnoht mundios tun.
Med 44 millions km² ed meis quem 4 milliards weikern, Asia est id mierst continent. Pro i geographs, skeipt id major deil tos summ os emergen land quod nament Eurasia ed quos westbors hat esen senidehno med id nam "Europe".
Ia geographic ed demographic data
Edit
Asia est id massivest continent, sien central iklimes esend ia planete zones piernst ud cada marripa. Lizdt nordi ab id Arctic Glehdjocean, eusti ab id Pacific Ocean, sudi ab id Hindi Ocean, forstehlpt med important archipelegvs, Japan, ia Philippines, id Indonesian ensemble (khaliban Borneo, Java ed Sumatra).
Alnos lyehgend eni id nord hemisphere, tohrt eusttos westtro ab un enorm gabehrgensysteme comprindend, med id Himalaya, ia tienxia bulandst akra - bayna qua Mont Everest quod nact 8848 meters -, Asia se dividt do dwo inegal ensembles. Nordi strehct un immense aykwos quer predomine plains ed quer continentalitat ed id ghyahsa kya polar iklimes posdehrje un srigo climat. Suder quem ia gabehrgs, leizend ia Hindi ed Pacific Oceans, strehct un warm Asia, ex Hind do Sud Japan, quos climat est regen ab id mecanisme iom mussims.
Mussims sont regular saisonwinds, blahnd lients ex id ocean kyid dayluk, bringhend un baygh akster miedhe, ed se invertend ghims ex ia ghyors do id mar sub forme os siuk mussim. Tod phenomen contribuet buwes ia ghyormassifs sem athime bogtors quetos katasreunt staur fluvs (Indus, Ganges, Brahmaputra).
Ta physic data conditione id baygh awo menscenpresence in Asia. Id megil ethnic ed linguistic diversitat schahidet id importance iom peragens om populations. Baygh daydey, Sud-West Asia men, ex Nordhind do Arabia, est tod iom blank folks bahnd schemi au hindeuropay bahsas. Central ed Eust Asia nu est befolct ab mongoloids - prevst-ye sayctens "gehlbs" - quim bahtst linguas bayghe ia tyrk ed sino-tupeudi grupps. Indonesia de superpont uni aborigine substrat malays populations gendel tibs qua befolke ia oceanian archipelegvs ios Pacific.
Lakin, neter ia ethnic differences ni id multiplicitat iom bahsas hant bestohmt ia divers identitats in Asia, sontern ghi ia civilisations ed Historia.
Reconstruct murs os Babylon, antique urb Mesopotamias lyehgend ana id Purat in moderne Irak, circa 100 km suder quem Bagdad. Yant in-kap id IIt millennium pre JC, Babylon, urb tuntos os minor importance, biht nagor uns rigios quod extendt tadrijan sien uperwaldhen ad hol Niter Mesopotamia ed hatta trans id. Nact sien apogee ye id VIt secule pre JC unte id regne os Nabukudurriussur II qui wanact tun un empire dominend un vast part os Mediorient. Leit ye tod zaman de oin om tienxia vasta citads, ids actual ruines occupend plur tepehs unte takriban-ye 1000 hectares. Ids prestige oistrehct trans Mesopotamia, besonters bi-sabab ia maschour monuments qua buir constructa ter, kam ids mier walls, idso zikkurat quod habiet ghohden inspiren id mythos ios Tor os Babèl ed ids mythic stieupengardens quom tolp ne hat est bad identifiet.
Tri megil civilisations pre -1000
Edit
Westi, in id lahim dwidal ios Tigris ed ios Purat (Mesopotamia), id schoumer-babyloni civilisation (IIIt millennium pre JC), kwehkend kam sien samzaman ed nieber os Misr, keiht ep id beuwen om kwoid ed gherzd ed se prolonget unte tri millennia, bihnd ithan dehtor iom futur mediomar civilisations. In id Cultural area quod id hat contribuen cree gnahsient ia megil monotheiste religions, yahadut, christianisme dind, serter, islam.
Ye id sam tid, alyo civilisation tyeicend yaviakeulen antslehnct in id Indus dal. Kwehct absorpt in id druna ios IIt millennium ab id progression om folks os oraryo bahsa qua vahnt sules, in id indo-gangetic plain, id prest hindi civilisation ed redage ia iser textes ep qua keiht id hindu religion, ia Vedas. Eni todschi cultural contexte siet id prechen os Gautama Shakyamuni, ye id VIt secule pre JC, gehne Buddha-dharma.
Bad, circum -2000 wardhe, in id Hoang-ho dals, ia bases ios awstios Chinese rigios. Ids progressive extension adduct, circum -1000, id adgumt ios prest imperial dynastia, im Zhou, ed id organisation uns administration. Id Zhou periode duret unte takriban oct secules ed seult id Chinese civilisation. Est yaschi id zaman om Confucius (551-479 pre JC) ed Laozi (604-531 pre JC), Chinas gurus.
Ta tri civilisations, seni, hant inventen ia presta scripts. Ia cultural areas ia hant baygh aus definiht commandent dar nundiens ia geopolitic factors ios continent. In Asia hat menscgenos entren historia.
In-kap id XIIIt secule, id situation eet grave pro ia mongol teuts, idghi Chinese Imperium wieldhskwit eti pernicskwit ia. Destull oku, ia ghieb ia tohrb se unie : Chinghis Khan bihsit is megil korion vasyen teuts. I Mongols preter attaqueer ia nordprovinces os China ed occupier mox ia rurs. I vipris Peking, quos populationo massacreer. Dind i Mongols vols westtro, kya Central Asiat lands. In 1220, i enghulf do Russ ed prihierb quant. Pos id mohrt os Chinghis, id weiro restarsit sub id korionia eysen hereds. In 1236, hol China ed Korea bihr attaquet. In 1240, ia rusk major urbs bihr destruct; oino yar serter, Polska ed Magyaria buir lahn. Id vanguardia ios cavalerie hatta niek id Mediomar. In 1256, Iran, Suria ed Tyrkia bihr occupet. Unte sixgimtia yaren, China, Christiandem ed Islam hieb skulto linkwes im Mongols quasi quanto ti hieb volen.
Quar megil cultural areas nundiens
Edit
Westtos, id cultural area creet ab id antique mesopotamiak civilisation hat plauterascto quan, ab id VIIim secule nesters era, islam hat biht ids unificator factor. Gnahn in id Arabic peninsula, tod hat jaldi strohcen uper id part Asias i Europays name Prokweust, integrand kathalika id Irani rewos, Afghanistan ed, in Central Asia, Turkestan. Pos anno 1000, islams progression hat trohcen kye Nordhind dind, per id mar, tiel Indonesia, nact ye id XIVt secule.
Sudi, Hind, ops invaden ed persclaven, hat dayim resisten ed re-sigwrn sien cultural identitat sulen ef hinduisme. Paradoxal-ye, med id diffusion alyios religionios gnahn in Hind Buddha-dharma, hat idso civilisation akster-ye influet Sud-Eust Asia, quayque tod est nundiens dyinen in id Hindi Subcontinent ab ne meis quem minoritats.
Id hol eustpart ios continent, Downgjien, est dominet ab id staur influence ios Chinese civilisation, quos expansion area veulbht id major part os Central Asia, Japan ed Indochina, quer id hat wohsen in concurrence con id hindi influence - quetos id nam dahn tei asiat iklime ab i europay geographs. Bad, id Nord os Asia, befolct ab skider teuts bahnd finnugher bahsas, buit tadrijan integret, ex id XVIt do id XIXt secule, ei Russian Empire edghi, ei influence ios europay civilisation. Trans id dissolution ios Union iom Sovietsken Socialiste Respublics (USSR), tod immense rewos, Sibiria, dar mant eni id Russian Federation.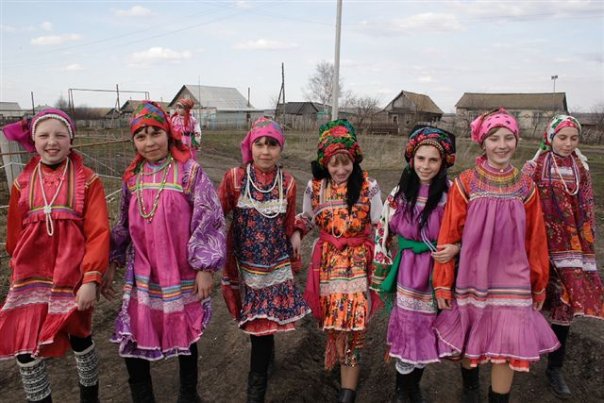 Mordvas piegas in traditional trakhs (Central Russia). Finnughers oiskeipe, con i Samids, id grupp iom Uralsk bahsas. Oruralsk buit in contacto con oraryum ed to prehpt dar nundiens binisbat Sambahsa : *kelke = skeul, *nime = nam, *wete = wed
Un clasch om civilisations
Edit
Tiel id XVIIIt secule, Asia hat remant tienxia befolkenst, richest ed productivest part. Circum 1700, Hind ed China comskeipe quasi id dwidel os tienxia brutto inland product (BIP). Dar in 1820, dwoter udweirt med 40% id global production os West Europe.
Asias collapse est lakin imminent. Menxu id Europe ios XIXt secule gnoht, med id Industrial Revolution, uno meteoric crosct ed uno maystern iom technique quod ei ijapt un craschend economic ed militar suprioritat, ia asiat societats, pau evolutive, wehse confrontet uni mahibe "clasch iom civilisations" ed pehde sub id fangh iom occidental imperialismen.
Ab ir costier torgcontors, ies Englisch impone ir waldh in Hind, ies Nederlanders in Indonesia, ies Franceois in Indochina, ies US Americans in ia Philippines. Id China ios Qing dynastia skapt id deilen tik dank ia rivalitats inter occidental stieures. Ies kreigers reuyde ia ressurces ye iro brungos, ruine ia traditional sanats importend-ye ia products iren industrien.
In 1950, Hind skeipt ne meis quem 3,8% os tienxia BIP ed China 3%. Tik Japan hat skapen tod kasra, gwaukanascus, sekwos sien 1868 revolution, os uces ia occidental techniques kay defende sien independence ed mox range in id camp iom imperialismen, quo id kwehrt yant id end ios XIXt secule smyehrnd-ye id breizen os China.
In 1939, id major part os Asia est meis au minter direct-ye sub tutele ed ia rar lands qua preserve un simili-independence deulgent to ops ei fact od eventual concurrents neutralise mutu (Iran, Afghanistan, Thayland).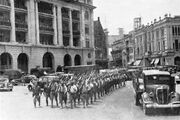 Japanese trupps marche in ia strads os Singapura pos id capitulation tos Britisch-duct jiowschayios dien 15 februar 1942
.
Id sbeuden os Asia
Edit
Just pre Mund Weir Dwo, Japan credeiht ses in stand os evinces ia occidental stieures ye sien brungos. Ja present in Korea, in Formosa (Taywan) ed in Manjukwok ye id detriment os China, id invadt tod in 1937 ed sib swekwehrt id control idsen khayghians. Ye endo 1941, attaquet ia Uniet Stats os America, lambhent ia Philippines ed, unte oik munts, occupet ia Britisch ed Nederlands colonias os Sud-Eust Asia hina ghehde prosch Hind. Id US contrattaque vitrehnct id ad capitulation in august 1945, bet id dughto taragh est muhim. Ies Japaneses hant enderminet id prestige iom occidental imperialismen qua deuyse restablie ir autoritat. In 1947, ijabend-ye independence ad Hind, i Britisch ghyane id via pro decolonisation.
Parallel-ye, in-kap stohmen ab id USSR, i communistes ducen ab Mao Zedong lambhnent id waldh in China in 1949. Unte trigimtia yaren, nespekent excessa ed errors, restablient un staur Chinese Stat quod, med sien centraliset magh ed id netwehrgo quod id communiste Partise oiskeipt, mimehmeiht ia structures ed id administrative bureaucratia ios prever empire. Mao mehrus (1976), ia utopias likwt, ia structures moderniset, China rebiht id enorm economic magh id hieb est previ.
Ye id end ios XXt secule, Hind ed China sont mundial stieures, Japan hat diutos ganisen ud sieno marloubia menxu Sud Korea, Indonesia, Vietnam sont in plen crosct. Westi, Iran ed ia arab lands brunge id enormo rente quod ibs procuret un enderghom quod mathmount 66% om tienxia naftsklads ed 40% tom os natural gas. Nespekent id economic crise, id continent hat izhart in 2012 6% mutawassit crosctratio (takriban 8% pro China seni). Kwehct ineluctable od ia asiat economias bihsient ye id XXIt secule tienxia presta.
Hong Kong (official-ye "Hong Kong Special Administrative Region ios Popules Respublic China"), ana id Perlenfluv Khaykou, est hem om 7,2 millions weikern diversen nationalitats ed est, samt 1104 km², oin om tienxia densst-ye populet regions.
Persistent problemes
Edit
Ta promissora prospects ne dehlgent lakin maske ia problemes qua riske empedise Asias future. Mustathna od demographic crehscen est nel-ye quantloc-ye controlen, od grave ambiental damna sont previsible ed od id augen iom social inegalitats ghehdt isnahe troubles, antagonismes inter stieures ghehdt adduce conflictual situations.
Eti ia economic rivalitats (sensible inter Hind, China, Japan), ia national irredentismes (Tupeud), ia territorial mukadmas (Kashmir), iaschi interreligious hainsa ghehde se forgehne do violences. Hind ed Pakistan sont it in lantent weirfert; in id muslim rewos, id hostilitat inter schiyis ed sunnis pieut id animositat inter Iran ed arab lands; Russia bayt Chinese taunays uper Eust Sibiria menxu China, Japan ed Vietnam diweide mutu de archipelegvs in China Mar qum fangh daht access ad ruyds au khayxian.
Api, six asiat lands (Russia, China, Hind, Pakistan, Israel, id netreusim Nord Korea) xeihnt id atomic arme ed Iran hassiliet id gairn. Kad est Asia id economic future ios planete, bet id est yaschi ids explosilst iklime.